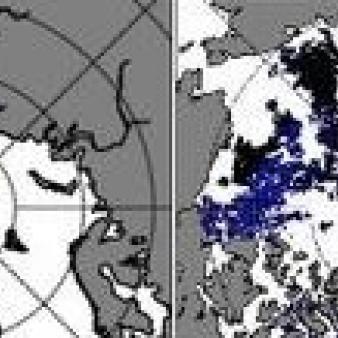 Medium Resolution Sea Ice Drift
Operational
Near real time product
Ice motion vectors with a time span of 24 hours are estimated by a maximum cross-correlation method (MCC) on pairs of satellite images. Input data are ~1km Infra Red or Visible data from the AVHRR instrument on board the Metop satellite.
Identification
OSI SAF producer :
Danish Meteorological Institute
Acronym for EDC (APNM) :
OMRSIDRN
Characteristics
Satellite input :
Metop/AVHRR
Central time :
~00:00, ~06:00, ~12:00, ~18:00
Spatial coverage :
Northern Hemisphere
Projection :
Polar stereographic
File Formats :
HL FTP Server (NetCDF3)
Characteristics & methods :
Single sensor analysis.
Displacement after 24 hours in km.
Including uncertainties.
Accuracy Requirements
Target accuracy :
2 km yearly std deviation after 24 hours displacement
Verification/validation method :
Collocation with buoys
Applications and users
Usage :
Ocean/Ice and NWP models, operational Met and Sea Ice services
History
Authorised to be operational / released :
Declared operational / released since :