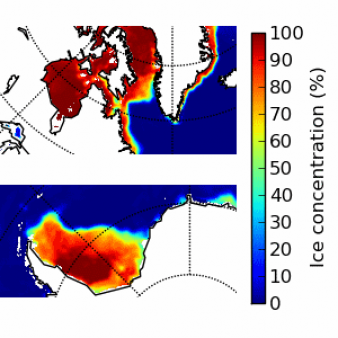 Level 2 PMW sea ice concentration
Operational
Near real time product
Sea ice concentration product on satellite swath for SSMIS and AMSR-2 instruments. The product is delivered on the native spatial sampling, and with
separate product files for SSMIS and AMSR-2. The product also includes uncertainty estimates and product quality flags.
Identification
OSI SAF producer :
Danish Meteorological Institute
Characteristics
Satellite input :
DMSP/SSMIS, GCOM-W1/AMSR-2
Other input :
ECMWF outputs
Frequency :
Up to 15 per day for each SSMIS, and 30 per day for AMSR-2
Spatial coverage :
Global
Spatial sampling :
SSMIS: 25 km, AMSR-2: 10 km
File Formats :
HL FTP Server (NetCDF4), EDC (NetCDF4), EUMETCast (NetCDF4)
Characteristics & methods :
L2 fractional ice cover in percentage.
Accuracy Requirements
Target accuracy :
10 % for NH-product. 15 % for SH-product
Verification/validation method :
Comparison with high resolution manual ice charts (Frequency of availability between once a day and once a week): the performance shall be validated for only the "ice" (100 % ice) and "water" (0 % ice) cases, separately.
Applications and users
Usage :
NWP and Ocean/Ice models, operational Met and Sea Ice services.
History
Authorised to be operational / released :
Declared operational / released since :